Florida Investment Broker Suspended for Six Months, Fined $20,000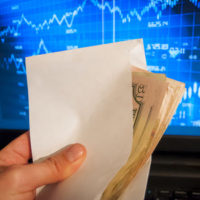 On April 11th, 2017, FINRA's Department of Enforcement announced that registered financial adviser John Patrick Wheeler (CRD#: 1068503) has been suspended for six months and fined $20,000 for professional misconduct. Mr. Wheeler was most recently employed at Raymond James Financial Services, Inc., at an office located in Clearwater, Florida. Without admitting or denying any of the allegations against him, Mr. Wheeler consented to the sanctions.
Allegations Against John Patrick Wheeler

Case Background

According to FINRA records, John Patrick Wheeler was employed as a 'general securities representative' at Raymond James Financial. In 2004, one of Mr. Wheeler's customers bestowed on him her power of attorney (POA) and made him her healthcare surrogate. Notably, this Raymond James customer was not related to Mr. Wheeler in any way. In 2009, the client, who was elderly, and had by this time moved into an assisted living facility, also gave Mr. Wheeler direct access to her checking account and all other financial accounts. This arrangement remained in place until the client passed away in 2014.
No Disclosures Were Ever Made to Raymond James

Despite having this client's POA since 2004, and check writing authority for her primary bank accounts since 2009, Mr. Wheeler never disclosed this information to his employer. Indeed, in compliance interviews that took place throughout this time period, Mr. Wheeler actively misrepresented these facts, even outright denying that he had such authority.
Mr. Wheeler Wrote Checks for the Client

In all, from 2009 through 2014, Mr. Wheeler wrote at least 56 checks for this Raymond James client. Of those checks, 49 were sent to other parties. This included writing some checks for basic expenses, such as the client's nursing home and other medical professionals. The other seven checks were reportedly cashed by Mr. Wheeler himself. In total, John Patrick Wheeler paid himself $7,300 for services he rendered to this client without informing his member firm.
A Violation of Industry Regulation

Under industry rules, specifically FINRA Rule 3270, registered securities brokers must not make 'outside business arrangements' with a firm's client, without:
Notifying their member firm of the prospective arrangement; and
Receiving approval from their member firm.
When this occurs, the brokerage firm would then be responsible for overseeing the transactions. Not only did Mr. Wheeler fail to notify his employer to seek such approval, but he also actively misled compliance officers at the company. Beyond providing incorrect information on his disclosure forms, Mr. Wheeler also lied in response to direct questions from his employer that were asked through e-mail. Further, Raymond James Financial has explicit rules in place that barred its employees from engaging in these kinds of outside business activities.
Were You a Victim of Investment Fraud in Florida?

Our experienced Miami securities fraud lawyers can help. If you lost money due to the misconduct of a broker, you deserve fair compensation. Please do not hesitate to reach out to us today at 1-(305)-372-9700 to request your fully confidential initial case evaluation. At Carlson & Associates, P.A., we represent wronged investors throughout South Florida, including in Dade County, Palm Beach County and Broward County.
Resources:
brokercheck.finra.org/individual/summary/1068503
finra.complinet.com/en/display/display.html?rbid=2403&element_id=9467