Curtis Carlson
Background Information: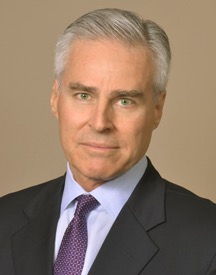 Mr. Carlson was born in Hibbing, Minnesota, in 1952. He attended Junior and Senior High School in the Cleveland suburb of Rocky River, Ohio. Mr. Carlson graduated from Purdue University with a Bachelor of Science degree in Mechanical Engineering in 1974. He graduated from the University of Miami School of Law in 1977.
Upon graduation from law school, Mr. Carlson joined the Miami law firm of Fowler, White & Burnett, P.A. in its Commercial Litigation Department, where he specialized in securities litigation. He worked at Fowler White for 14 years, eventually becoming a Managing Director of the firm, and represented and tried cases for many major brokerage firms, including:
Prudential Securities (f/k/a Bache, Halsey, Stuart Shields, Inc.)
Drexel Burnham Lambert
Shearson Lehman Bros.
PaineWebber, Inc.
Thomson McKinnon
Loeb Rhoades & Co.
He also represented the State of Ohio in the ESM Securities matter.
While at Fowler White, Mr. Carlson tried a significant number of securities cases before juries in both federal and state courts and before arbitration panels of both the New York Stock Exchange and the National Association of Securities Dealers. These cases ran the full gamut in terms of products (stocks, corporate bonds, municipal bonds, revenue bonds, stock options, commodity futures, short selling, butterfly spreads, reverse repossession agreements, and Collateralized Mortgage Obligations) and claims (unsuitability, churning, misrepresentations, breach of fiduciary duty, conversion, and fake monthly statements). He also tried legal malpractice and patent infringement cases during that time.
In 1991, Mr. Carlson left Fowler White to start his own law firm, which today is known as Carlson & Associates, P.A. Since 1991, Mr. Carlson has continued to focus his practice in the areas of securities litigation, principally in the area of representing customers and brokers in claims against brokerage firms, legal and accounting malpractice, director and officer liability, intellectual property claims, and corporate and partnership disputes.
Admissions and Memberships:
State of Florida
United States Supreme Court
United States Patent and Trademark Office
United States Fourth Circuit Court of Appeals
United States Fifth Circuit Court of Appeals
United States Ninth Circuit Court of Appeals
United States Eleventh Circuit Court of Appeals
United States District Court for Southern District of Florida
Directorships:
Member of Board of Directors of The Stephan Co. (SPCO.PK)
Former member of the Board of Directors and Special Director for Legal Affairs of The Swedish-American Chamber of Commerce of the United States of America, Inc., Alexandria, Virginia
Member of Board of Trustees of St. Stephen's Episcopal Day School, Coconut Grove, Florida (2011-2014)
Other
Former Adjunct Professor of Law, Litigation Skills, University of Miami
Member of the Securities Litigation Committee of the Miami-Dade County Bar Association
Martindale-Hubbell Rating:
Mr. Carlson is rated AV by Martindale-Hubbell law directory.
Email: Carlson@Carlson-Law.net