Chase Carlson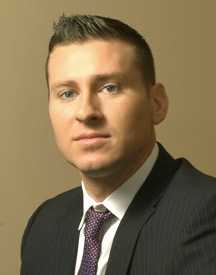 Chase Carlson focuses his practice on investment fraud litigation, corporate disputes, and partnership disputes. He has represented investors against most of the major wealth management firms on Wall Street. Chase also focuses his practice on employment disputes, legal malpractice, and accounting malpractice.
Chase was born in Miami, Florida in 1984. He graduated from Florida State University with a Bachelor of Science degree in Finance in 2007.  While in law school at Florida International University, he obtained a Master of Science degree in Finance in 2009, and earned his Juris Doctor degree in 2010.
Chase has been an attorney with Carlson & Associates since 2010. He has previously worked for Global Capital Advisors, a broker-dealer, and for ASG Capital and Kovack Advisors, both of which are registered investment advisors. He also founded Blueprint Family Office, Inc., a registered investment advisor that formerly provided financial advice to several professional athletes. Chase has previously held Series 7 and Series 65 securities licenses.
Chase has represented many professional athletes in various legal matters and has recovered money for over a dozen that were victims of investment fraud or mismanagement.  His athlete clients have included Rudi Johnson, Larry English, Keyon Dooling, John St. Clair, Javier Arenas, Pat Sims, Guy Whimper, Glenn Holt, and Johnny Williams.
Education:
Florida State University, B.S. Finance, 2007
Florida International University, M.S. Finance, 2009
Florida International University, J.D., 2010
Email: Chase@Carlson-Law.net